For Immediate Release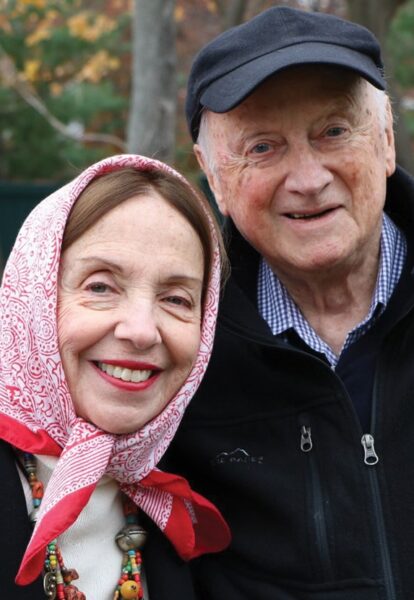 (JULY 11, 2022, NEW HAVEN, CT) A new scholarship fund by the Connecticut Architecture Foundation (CAF) that honors Pritzker Prize recipient, architect Kevin Roche and his wife Jane, has been established by the couple's children to celebrate their parents' historic contributions and support architecture students as they step into architecture and design careers.
Called the Jane & Kevin Roche Scholarship Fund, the program's $150,000 seed money was secured through the Roche family's decision to repurpose Roche's Pritzker Architecture Prize, a Henry Moore sculpture, Two Piece Reclining Figure: Cut, "making the Pritzker work for the betterment of architecture in a new way, refocusing its lens from the most heralded to the least."
The event to commemorate the establishment of the Scholarship Fund was held on April 28, 2022, at the Yale School of Architecture in Paul Rudolph Hall. The evening began in the Lecture Hall with a welcome by Deborah Berke, Dean of the Yale School of Architecture. The centerpiece of the Event was a recorded video remembrance of Kevin Roche by more recent Pritzker Prize winners, Grafton Architects Yvonne Farrell and Shelley McNamara. Their practice is in Dublin, Ireland (Kevin was Irish) and their presentation noted architecture in relationship to nature, both theirs and Kevin's. This remarkable conversation, a jewel, was introduced and hosted by renowned architecture critic, Cynthia Davidson, who presented the video in person. Yale School of Architecture Senior Critic, Brennan Buck, closed the lecture part of the Event commenting on the social aspect of Kevin Roche's work and its application to society at large. The scholarly part of the evening became the celebrative part as the Signature Sponsor, Woodbury Supply Company, invited guests to the Gallery for hors d'oeuvres and cocktails; all around, it was a delightful evening.
Monetary donations are encouraged to the scholarship that will award money in 2023 and annually after that to select students who have completed two years in accredited undergraduate architectural programs or have been accepted into an accredited graduate program.
"The Roche family's creation of this scholarship fund in celebration of their parents' significant architectural contributions is commendable," says Jay Brotman, AIA, a longtime board member of CAF, and managing partner of architecture, art and advisory firm, Svigals + Partners in New Haven, Conn. "We are enthusiastic supporters of CAF and the influential work of Kevin Roche. His passing in 2019 reminds us of the power of exceptional architecture and the importance of supporting new talent in the field."
A native of Dublin and graduate of the National University of Dublin's architecture program, Roche (1922-2019) moved to Chicago early in his career, working with Mies van der Rohe and later, with Eliel and Eero Saarinen in Michigan before establishing Kevin Roche John Dinkeloo and Associates in 1966. Among the firm's noted designs are the Ford Foundation Headquarters and the Lehman Pavilion at the Metropolitan Museum of Art.
"This year Kevin Roche would have been 100 years old," notes Stephanie Degen-Monroe, AIA, President of CAF. "Some aspects of architectural practice do not change or shouldn't. Kevin is remembered by office staff as wanting to give quality of life to people at work. There are multiple examples, all focusing on light and the natural world as the founding elements of the architecture. I can't think of a better way to honor his legacy of exceptional architecture and the advancement of promising future architects than by supporting the scholarship dedicated to his ideals."
Donations to the Jane & Kevin Roche Scholarship Fund can be made at this link.